Wow.
Does anyone else remember the V sci-fi mini-series from the 1980s?
Maybe this will bring back some memories: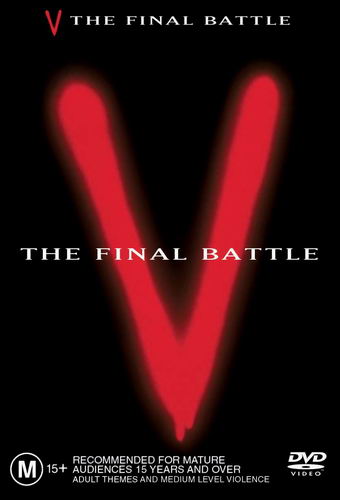 I used to love this show as a kid. I used to have to beg to stay up to watch it, I was about 7 or 8, it started at 10pm and ran for an hour. It really captured me at the time. There was the original mini series featuring the pilot and a second episode, followed a year or so later by the 3 part V: The Final Battle. These were shown in the UK on 5 consecutive nights during the Los Angeles Olympic Games in 1984. They proved so popular that after much pressure, there was eventually a weekly TV series that was never shown in the UK, but by all accounts it was rather poor and cancelled after the first series.
I last saw it when I was 17, a friend of mine had it on video. I came across a video clip last night and did some googling around it. It turns out that the series is still popular and has a quite an active following. The most detailed site at the moment seems to be http://thevisitors.info/ aswell as http://www.the-v-files.com/, Ilana's V Celebrity Site and this one . It seems that most V sites are garishly decorated…
People are trading props and outfits from the show, it seem the original costume maker is still making the costumes to order (for several hundred dollars). There also appear to be several games based on V. There is a Commodore 64 game unsurprisingly called V (and isn't very good), a Battlefield 1942 mod and V – Resist or Perish, a graphical adventure game which is as yet incomplete.
I really wish that some games company would see the potential of a proper 3d V game. I used to wish for a good V game, I even intended to write one myself when I was about 14. I imagine the ideal V game being something like a cross between the stealth and problem solving elements of Return to Castle Wolfenstein and Deus Ex, the team elements of S.W.A.T and some network shooter action like RTCW or Wolf ET. Oh and some kind platform portability like RTCW and Wolf ET would be nice so I could play it on Linux.
Another thing that struck me while casually flicking through some of this stuff: some of these guys are real space nerds. Now I'm a Linux guy and there are is a real undercurrent of geeky, daylight fearing, text mode adventure playing, War Hammer card game owning obsessives in the lower echelon of the Linux world and I think quite rightly they get thoroughly derided by 'normal' people, but space nerds are another thing completely. Some of the bulletin board posts are signed using alien phrases from the show and they obsess about the fine biological details of the aliens. Someone had to actually point out that it was only a TV alien fantasy.
While I've never been a Trekkie or any kind of space geek, I think I could be persuaded to wear a V Shock Trooper outfit as I think it would get me laid by loads of weird space chicks 😉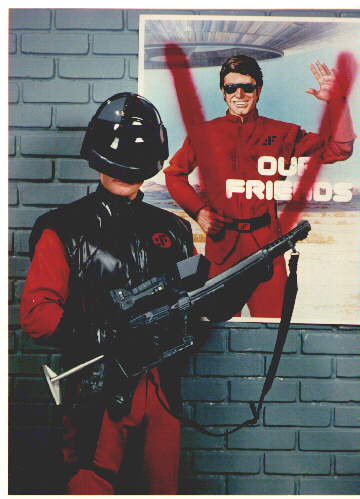 It also appears that a new version of V, either a remake or a sequel is under development. Maybe I will try to apply some pressure to people like Activision or ID to make a game to coincide.